History of Lake Columbia

•

Overall Development: 1600 Acres


•

Area of Water: 840 Acres


•

Shoreline: 12 Miles


•

Length of Lake: 2 1/2 Miles

•

Width at Widest Point: 1 3/4 Miles


•

Average Depth: 18 Feet (View Bathymetric Map)


•

Water Source: Goose Creek


•

Drainage Area: 25,000 Sq. Acres
Dam Information
Dam: The earthen portion of the dam is L-shaped, 950 feet long and 35 feet high. The head of water is 28 ft.
Spillway: 225 feet long, 30 feet wide with an average wall height of 12 feet. The mouth of the spillway is 50 feet in diameter.
Spillway Material: Has 2,000 cubic yards of concrete and 200,000 pounds of reinforced steel.
Beginning of Lake Columbia
In September of 1960, after an intensive study of the area by American Central Corporation of Lansing, Michigan the people in the Lake Columbian area, which was then strictly farm land, were contacted and their farms purchased.
In July of 1961, construction started on the huge dam that now stops the flow of Goose Creek.
In the fall of 1961, large clearing crews worked to clear the wooded portions of land in the lake basin along with massive bulldozers. These dozers worked around the clock and at night they kept huge fires pushed up tight. The roaring blaze could be seen for miles around.
On November 10,1961, it was red-letter day for that was the day flooding started and before your eyes you could see farmland being transposed into our beautiful lake.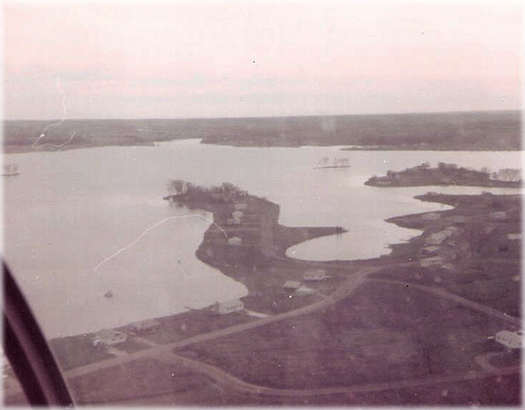 Lake Columbia in the mid to late 1960's. View is overlooking Castlewood and Wesch Road.