Lake News
Columbian Newsletters
2019: May
2018: March, May, August, December
2017: March, May, August, December
2016: March, May, August, October, December
2015: May, June, October, December
2014: January, March, May, June, October, December
2013: January, March, May, June, October
2012: March, April, July, October
2019: Notice for 2019 Year, Proposed-May 13 & 14
2018: Notice for 2018 Year, Proposed-May 15, May 31, June 6 & 7, June 19, Proposed-June 25, Proposed-August 15, August 30
2017: Notice for 2017 Year, May 15, June 21, July 11, August 7
2016: Notice for 2016 Year, May 31, June 23 & June 28, August 1, August 30
2015: Notice for 2015 Year, May 13, June 17, July 15
2014: Notice for 2014 Year, May 19, June 11, July 14, August 13, September 9
Weed Treatment Details
2018 TREATMENTS
2017 TREATMENTS
2016 TREATMENTS
2016 Notes on Treatments: Due to so many weeds since the survey date on 5-9-16 to the first treatment date of 5-31-16, there was a shortage on the chemicals being used. An additional treatment was necessary. The areas marked in blue were treated on June 23rd. The areas marked in red were treated on June 28th. View map
Donations are Appreciated!
Fish stocking takes place each year on our lake and can be costly. Fish stocking donations can be made any time of the year and when you donate, your donation is matched. Would you like to help fund the stocking of our fish? Please fill out this fish donation form and mail with your check or stop in to the office.
Limnological and Fisheries Survey of Lake Columbia (including recommendations and a management plan)
Accepting Donations Throughout the Year
Help us make this a great fireworks show! Donations can be made to the office at any time of the year. Fill out this fireworks donation form and mail with your check or stop in to the office.
Social Media
Lake Columbia's Nextdoor Neighborhood
Lake Columbia Nextdoor is a private website not associated with the LCPOA. It can be used to communicate with neighbors, advertise items for sale or wanted, request referrals for services, post an event, be advised of neighborhood alerts, post lost and found items and much more.
If you are a property owner and would like to join your neighbors on Nextdoor, go to www.nextdoor.com, enter your lake address and click on the green "Get Started - it's Free" button. From there you can create an account and begin sharing information with your neighbors.
Facebook
LCPOA does not have a Facebook page but the Activities Committee does. To access their Facebook page go to: https://www.facebook.com/LakeColumbiaActivities/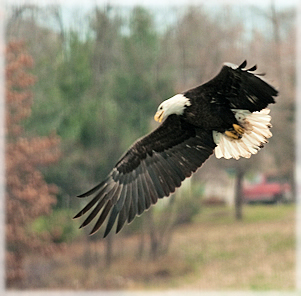 This eagle was spotted at Lake Columbia.