LAKE COLUMBIA


Property Owners Association

Lake Columbia is enjoyment
in EVERY season!

Hours of Operation
Monday - Friday: 9:00 am to 5:00 pm
Google Map
Welcome to Lake Columbia Property Owners Association
Lake Columbia is a private lake located in the beautiful Irish Hills area of Southern Michigan near Michigan International Speedway (MIS) and Brooklyn, MI.
Special Notices

Aquathruster
Per the MDEQ, use of a Aquathruster requires a permit from MDEQ. If you are using one discontinue doing so immediately! (read more)
Fireworks


The Association has hired Ace Pyro LLC to shoot our fireworks in 2019. We will be accepting donations anytime during the year at the office to enhance the Fireworks show. (read more)
Stump Bay


The Association has received a quote of $18,000 to remove all the stumps in stump bay. Please let us know if you are in favor of us doing this by filling out the contact form in the contact tab. (read more)
You can get the Columbian newletter email.


If you would rather get the newsletter email, contact the office and give them your email address. This will save association funding that can be better used elsewhere. (read more)
Featured Dates
---
Quick Links
· Weed Treatments & Notices
· Trash Service for Members
· ByLaws & Deeded Restrictions
· Board Officials/Shore Directors
---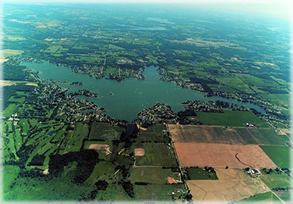 Association Office
Our LCPOA office is opened five days a week. For your convenience during closed hours, owners can mail, email, fax or use the front door drop-off slot to submit payments, vehicle and watercraft registrations, etc. If you need to obtain a ramp key, pick up watercraft or vehicle decals or submit building plans, etc., just stop in to the association office during our office hours.

We are proud of our lake and want it to always be a healthy, fun, and relaxing place for everyone to enjoy. As we all know, Lake Columbia is one of the most desirable private lakes in Southern Michigan! Thank you for all that you do in helping to support our lake through your donations, volunteering your time, keeping our parks clean, participating in our community events and so much more!

For more information or for any questions, please contact us.


We look forward to hearing from you!